ANDI: Associates of NDI
NDI has successfully seeded programs both nationally and abroad, ranging from workshops to year-round in-depth curriculum programs, all based upon NDI's unique teaching techniques. Many of these programs have become members of ANDI: Associates of National Dance Institute.

ANDI, inspired by the work of Jacques d'Amboise, strengthens associate organizations by providing a forum to share best practices, maintain standards of excellence, and promote the growth of community arts education programs for children.
Current NDI Associates:
Arts in Action
Website: www.ncartsinaction.org
Kay Gayner, Artistic Director
Shirley Berger, Founder
510 Meadowmont Village Circle
Chapel Hill, NC 27510
(919) 619-0483
Email: kgayner@aol.com
California Dance Institute (Los Angeles, CA)
Website: www.californiadanceinstitute.org
Carole Valleskey, Artistic Director
Rebecca Wink, Managing Director
P.O. Box 3027
Venice, Ca. 90294
(323) 251-8391
Email: cvalleskey@californiadanceinstitute.org
Celebrate the Beat (Aspen, CO)
Website: www.ctbeat.org
Tracy Straus, Artistic Director
PO Box 10580
Aspen, CO 81612
(970) 920-3202
Email: tracystraus1@mac.com
Kids Excel El Paso (El Paso, TX)
Gemtria St Clair, Artistic/Executive Director
Website: www.Kids-Excel.org
P.O. Box 920144
El Paso, TX 79902
915.351.6999 Phone
915.351.1117 Fax
Email: Gemtria@Kids-Excel.org
Minds in Motion (Richmond, VA)
Website: www.richmondballet.com/mindsinmotion.aspBrett Bonda, Artistic Director
Richmond Ballet
407 East Canal Street
Richmond, VA 23220
Email: bbonda@richmondballet.com
NDI New Mexico (Sante Fe, NM)
Website: www.ndi-nm.org
Russell Baker, Artistic Director
1140 Alto Street
Santa Fe, NM 87501
Email: info@ndi-nm.org
New Hampshire Dance Institute (Keene, NH)
Website: www.nhdi.org
Kristen Leach, Artistic Director
P.O. Box 1116
Keene, NH 03431
Email: nhdi@monad.net
Reach Out and Dance
Kara M. Stewart, Artistic Director
Cuyahoga Valley Youth Ballet
(330)524-6697
kara4road@aol.com
Trenton Education Dance Institute (Trenton, NJ)
Dufftin Garcia, Artistic Director
Contact: Richard Bilotti at The Times
500 Perry Street
Trenton, NJ 08618
(609) 989 5434
Email: dufftingarcia@aol.com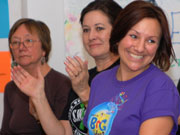 2009 ANDI Conference
---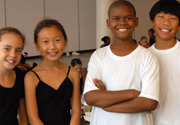 North Carolina Arts In Action
---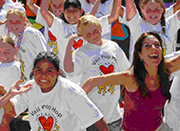 Celebrate the Beat
Aspen, Colorado
---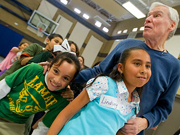 Kids Excel El Paso
El Paso, TX
Photo: Robert Fuel
---