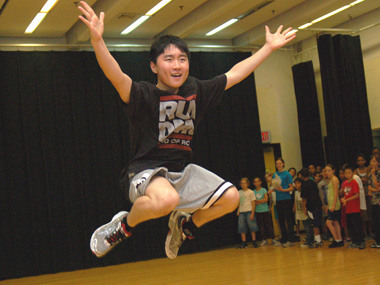 Spotlight on: NDI parent Erika Honda
Why I give to NDI
Dear fellow Friends of NDI,
I will be forever grateful that National Dance Institute (NDI) is part of our lives, and I know that when my son Alex (Alex Shimizu, pictured above) graduates next year, I will be an alumni parent who continues to volunteer and contribute.
The first time I witnessed an NDI performance, I was amazed by the joy and happiness on the faces of all the kids on stage. The smile has never left my face, and five years later I am still moved and brought to tears by the same excitement and thrill.
Alex started NDI in 4th grade at Hunter College Elementary School. All he ever did at that age was play and think and talk about baseball, and I know he never would have tried dancing had it not been for NDI's In-School Program. Arthur Fredric, his first NDI teacher, was a fellow Mets fan who taught the kids energetic and athletic dances. Alex was hooked when Arthur showed them how to jump off the stage safely.
Alex was fortunate enough to be asked to join the SWAT Team (Scholarships for the Willing, Achieving and Talented) that first year, followed by the Celebration Team. Rehearsing every Saturday, he has made friends with kids from all over the city who share the same passion for and commitment to dance. These are friendships Alex will treasure the rest of his life.
NDI has the most dedicated, talented, enthusiastic, caring teachers—teachers who parents dream their child will be lucky enough to experience in a lifetime. I know that the skills Alex is learning have already served him well in school and in the real world. He has gained confidence and a belief in himself from the guidance given by Jacques d'Amboise, Ellen Weinstein and everyone at NDI. Alex has learned respect and focus, how to work collaboratively, how to adapt to different learning styles and how to express himself—all from this one program.
The mark of a truly successful program is that so many people want to give back in any way they can. At each event, I am always surprised by how many alumni, parents, and former staff members return to help support NDI.
Every child deserves to experience the invaluable skills and opportunities that NDI provides, and with your generosity this Holiday season, many will.
Please send a contribution to NDI today.
Best,

Erika Honda
Parent of NDI Celebration Team dancer Alex Shimizu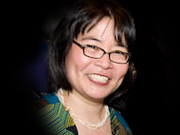 Why I give to NDI - parent Erika Honda
---