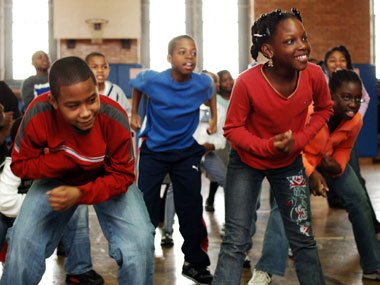 Programs
NDI delivers arts programming of unsurpassed quality.
National Dance Institute programs are exuberant, intellectually engaging – and unlike any other programs of their kind. Currently in 40 partner schools in the NYC metro area, NDI works with close to 6,000 students each week. Each NDI class is led by a Master Teacher/Choreographer, a Musician/ Accompanist, and an Assistant Teacher. Schools and families take great pride in the extraordinary excellence their students achieve in NDI, and teaching artists develop relationships with principals and classroom teachers that deeply root NDI's programs in a school's culture and curriculum. NDI tirelessly evaluates its programs and provides ongoing professional development to ensure the highest quality teaching and artistry.
Throughout its 40-year history, NDI has successfully seeded programs both nationally and abroad. There are currently 12 NDI associates thriving in the US.
NDI gives students skills essential to their education.
With NDI, product and process go hand in hand. NDI performances are joyful, electric events of the highest calibre. Preparing for the day of the performance, students gain critical thinking and collaborative skills, habits of healthy living, global perspective and cultural literacy, the ability to communicate ideas through an art form, an essential confidence in their ability to learn, and a hunger for continued achievement – all at an accelerated pace that the core academic curriculum cannot do alone.
NDI teaching artists are at the top of their field.
NDI's staff of professional dancers and musicians are as serious about teaching as they are about their art. Having maintained careers in professional dance companies, on Broadway, and in film and television as performers, choreographers, composers, and music directors, they have chosen careers as educators.
Each year, dozen of professionals participate in NDI's Teaching Artist Training Program, receiving hands- on learning in NDI's award-winning pedagogy. In turn, those teachers reach thousands more students throughout New York City, across the country, and around the world.
NDI's teaching methods reach all students.
At the core of NDI's success is its unique pedagogy, developed over decades to address the needs of students across a spectrum of abilities. NDI serves all students including those with physical and cognitive challenges, blind and deaf students, and English language learners.
Exceptionally achieving dancers may continue through the 8th grade in NDI's Celebration Team. These dancers have performed in professional events and venues such as The Kennedy Center, The White House, the Macy's Thanksgiving Day Parade, and internationally in Geneva, Jerusalem, Venice, and Shanghai.