NDI was founded in the belief that all children are dancers. Since our inception, NDI's programs have served children of all abilities, including dancers who are deaf and hard-of-hearing; dancers who are blind and visually impaired; and dancers with a range of intellectual, emotional, and physical disabilities. In addition to NDI's fully inclusive programming in schools, NDI offers specialized programming beyond the school day for dancers with disabilities.
The DREAM Project
The DREAM Project (Dancers Realize Excellence through Arts and Movement) is an inclusive dance program that provides children with disabilities the opportunity to perform. In this unique program, children with disabilities and a group of age-matched, neuro-typical peers dance in partnership, with the goals of maximizing participation and challenging every dancer to achieve their best through teamwork, creativity, empathy, and discovery. The program culminates in a performance celebrating every student's talents and achievements.
DREAM was co-created by NDI Associate Artistic Director Kay Gayner and Pediatric Physical Therapist Agnes McConlogue Ferro and is held twice per year, in February and August, at the NDI Center in Harlem. The program serves dancers ages 8 to 14 with disabilities and is offered free-of-charge to participants.
Contact Aileen Barry, Senior Director of Education & Outreach, for more information and to register. We currently do not have any volunteer opportunities for this program.
Upcoming Dates:
9:00 a.m. to 12 p.m., Tuesday, February 19–Friday, February 22, 2019
9:00 a.m. to 12 p.m., Monday, August 12–Friday, August 16, 2019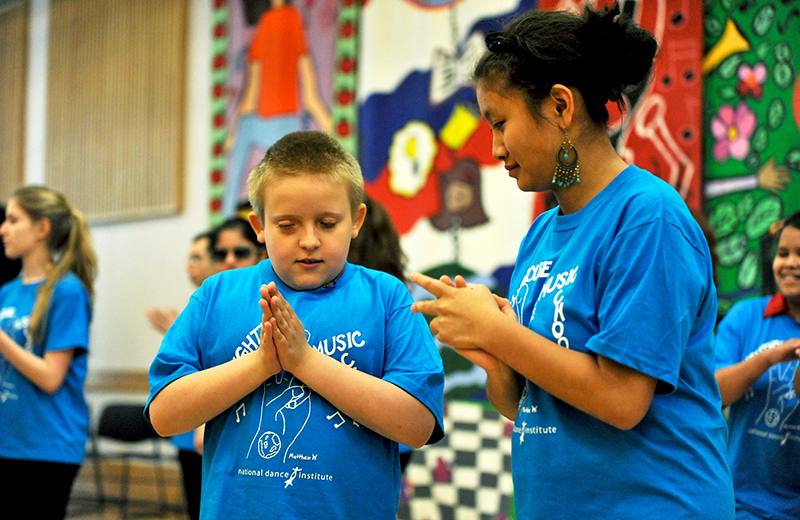 Lighthouse Program
NDI partners with The Filomen M. D'Agostino Greenberg Music School at Lighthouse Guild, providing a program for children ages 5–18 who are blind and visually impaired. Led by NDI Master Teaching Artist Dr. Jenny Seham, dancers from the Lighthouse Music School partner with NDI alumni interns in a joyful, rigorous, yearlong program that culminates in performance.
NDI is proud of our long-term association with Lighthouse Guild, which began in 1989. The Lighthouse Music School partnership reflects NDI's founding belief that all children can attain excellence through the performing arts.