Alumni Profiles
Dufftin A. Garcia, born and raised in New York City, graduated from Brooklyn Technical High School and earned a B.S. in Computer Science at Lehman College. He began his professional dance training at eight years of age on a scholarship to The Elliot Feld Ballet. In 1988 he joined National Dance Institute and has been a part of every NDI Event of the Year since then. As an NDI Alum, he performed for The 25th Anniversary of the Kennedy Center, and along with Gregory Hines on NBC's "Name Your Adventure." He was Jacques d'Amboise's Associate Director for NDI's first International Residency Program in Israel and Palestine in 1997, Assistant Director for NDI's 1999 Mt. Kisco/Bedford Residency, and Artistic Director of the Mott Haven Residency in 2000. During NDI's 2004 Cultural Exchange in China, he also taught alongside Jacques d'Amboise. For the past four years he has been Artistic Director of the TEDI/NDI Trenton Program. Dufftin has received a two-year Van Lier Scholarship to the Alvin Ailey American Dance Center and with Awakening Dance Theatre Company represented the United States at the Aberdeen International Youth Festival in Scotland. He has worked with Reuben Edwards' Underground Dance Project and Clyde D. Bailey Contemporary Dance Company and dances with Freestyle recording artist Cynthia. He is a member of NDI's Alumni Association and Co-Artistic Director of the annual NDI Dance-A-Thon.
Bianca Johnson's relationship with NDI began when she was invited to participate at the age of nine as a sighted guide in NDI's visually impaired program under the direction of Jacques d'Amboise and then-Associate Artistic Director Lori Klinger. Shortly after, Bianca joined NDI's Celebration Team. In 1999, Bianca earned her B.F.A. in dance from New York University Tisch School of the Arts. She has danced in works by Doug Varone, Mark Dendy, and Igal Perry, and has been a member of Pat Catterson/Nine Lives since 2001. She also studied for a time with the Joffrey Ballet School. An NDI teaching artist since 2001, Bianca is serving as the lead teacher at P.S. 105, P.S. 290, and St. Patrick School. Bianca is also a teaching artist with Celebrate the Beat, a Colorado-based affiliate of NDI, and at the LaGuardia High School for Performing Arts. She is a member of NDI's Alumni Association and Co-Artistic Director of the annual NDI Dance-A-Thon. This year, her choreography credits include "Oberon's Frustration," a piece that will be performed by Celebration Team dancers at the 2006 Event of the Year in June. Bianca also volunteers as a dance instructor for children living in a homeless shelter in Queens.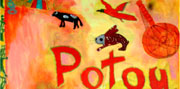 In-School Performances
Over 3,500 NDI dancers are preparing for performances celebrating this year's theme, An African Village, take place in NDI partner schools throughout May and June. These jubilant performances are the culmination of NDI's year-long study of the village of Potou in Senegal, and of African arts and culture.
Click here for more info!

---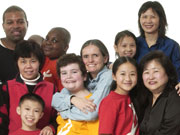 Parents as Arts Partners
In workshops funded by the Center for Arts Education, four of NDI's partner schools-PS 126M, PS 183M, IS 223M/Mott Hall School, and PS 235K-engaged parents and families in specially designed dance classes and visual arts projects.