School Partnerships
Full-Year Program
NDI provides a comprehensive in-school dance program that embraces children, educators, and parents in partner schools across the city.
Basic Structure
At each of our partner schools, we enroll the entire 4th or 5th grade-at some schools as many as 300 dancers. The program runs for the length of the school year. Each class in the participating grade has dance once per week during the school day. These children learn dance along with language arts and math, underscoring NDI's belief that the arts are vital to a child's development. NDI classes, taught by three professional teaching artists: a teacher / choreographer, an assistant teacher, and a musician, introduce students to the basics of dance while challenging them creatively and intellectually. In addition, NDI artistic and program staff members work with classroom teachers and other arts specialists in each school to integrate the arts into everyday classroom learning.
The NDI program emphasizes regular in-school performances. Throughout the year, students have a chance to display their growing skills in both mid-year and final performances for the entire school. The final performance, or Event of the Year, includes an evening for parents, friends and members of the community at which the dancers showcase what they have learned.
Curricular Theme
NDI teaching artists work with a theme throughout the year, which they integrate into lessons and which inspires the design of a cohesive culminating performance. The theme is often relevant to the students' other studies and allows the dancers to find creative new ways to learn. Past themes include: A Celebration of Literature, The Life and Genius of Duke Ellington, A History of the City of New York, and international themes celebrating China and India.

For more information, or to find out how to become an NDI partner school, contact Aileen Barry, Program Director, abarry@nationaldance.org, or Wes Webb, Education Director, wwebb@nationaldance.org.
Residencies
NDI has regularly conducted residencies - shorter-term, intensive programs - in schools nationwide. We are now offering this model to New York City schools.
Residencies can be one, two, or multiple weeks and will be specifically tailored to a school's needs. For information and to develop the appropriate residency program, contact NDI Associate Artistic Director, Tracy Straus at tstraus@nationaldance.org.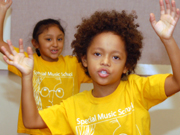 NDI's In-School Program
---