Irene Diamond Summer Institute
The Irene Diamond Summer Institute is a central component of NDI's Advanced Programs, which provide a multi-year continuum of advanced performing arts training—completely free of charge—for our most enthusiastic, dedicated, and talented dancers drawn from our In-School Program in New York City public schools.

Each year, Summer Institute serves 9-14 year-olds in a comprehensive intensive of dance and music instruction. Students attend sessions Monday through Friday, from 10am-4pm, for four weeks and study fundamental ballet, modern, tap and jazz technique with an emphasis on musicality and performance quality. Classes in instrumental and vocal music complement the Summer Institute dance curriculum.

This rigorous schedule provides our dancers with a deep appreciation of the arts, an understanding of formal dance and music terminology, and solid foundation of dance and music skills. Most importantly, it builds confidence, instills the power of teamwork, and motivates a young person towards excellence.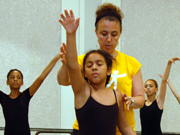 Irene Diamond Summer Institute