S.W.A.T.
NDI's S.W.AT. (Scholarships for the Willing, Achieving, and Talented) Team is comprised of over 100 dancers selected from NDI's in-school program each year. Dancers who demonstrate extraordinary ability, enthusiasm for dance, and a willingness to commit to disciplined study are chosen to receive this one-year scholarship. The S.W.A.T. Team program allows NDI to address the needs of exceptional students, dancers whose skills deserve to be challenged and developed beyond the in-school curriculum.
S.W.A.T. Team members pursue advanced training in dance and music, attend classes with professional artists, and gain experience as performers and choreographers. The intensive instruction offered after school or on Saturdays throughout the school year, promotes the children's capacity to work as a team while honoring individual abilities. S.W.A.T. Team members become leaders in their In-School classes, mentoring their classmates. The S.W.A.T. Team program culminates in NDI's Event of the Year, a large scale public performance at LaGuardia High School for Music & Art and the Performing Arts.
An important goal of the S.W.A.T. Team program is to reach children who otherwise might not have had the opportunity for advanced study in dance.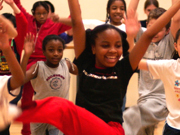 NDI S.W.A.T. Team Dancers

---